Welcome!
2019 MCHA would like to give a
HUGE THANK YOU
to the 2018 President Kelly Zelikovitz.
Board service is one of the toughest volunteer roles; and Kelly preforms with dedication and passion.

We are very thankful to have Kelly as part of our organization. She has been encouraging to all those around her, offering insight and making a lasting impact.
Kelly ALWAYS has MCHA's best interests in mind. Her leadership skills have helped MCHA grow by leaps and bounds and we look forward to her continued participation in a sport she dearly loves and is dedicated to.

From all of us at MCHA,Thank You Kelly!
---
2019 Tentative Show Schedule
March 20 - 24
ICHA Spring Show, Nampa, Idaho
April 19 - 20
Millers Horse Palace Spring Spectacular, Laurel, Montana
May 10 - 11
Wright, Wyoming
May 23 - 26
Crazy Mountain Cutting, Heart K Arena, Livingston, Montana
June 22 - 29
Western Nationals, Denver, Colorado
July 12 - 14
Dillon, Montana
August 14 - 18
Big Piney, Wyoming
October 4 - 5
Millers Horse Palace Fall Spectacular, Laurel, Montana
October 24 - Nov. 2
Ogden, Utah (This show will count towards 2020 standings)
Please look for more shows to come!
---
Gage Banner
MCHA Youth Rookie of the Year
Tell us about your cutting experience:
How long have you been cutting? 4 years

What initially interested you in the sport? When my dad, Todd Banner, started teaching me.

Which horse gave you your first cutting horse ride? Tom Tucker Smoke (Tommy)

Have horses always been a part of your life? No, but since I was nine they have been apart of my life

Favorite Cutting Horse Show: In Kalispell at the Big Sky Aged Event
Most memorable winning run: 2018 in the NWB class when I won with a 72 on HR Smarty Cat

Tell us about your cutting horse / horses:
Nickname: Tommy, Smarty, and Skipper

Horse's Age: Tommy was 22 before he died, and Smarty was 11 before we sold her, and Skipper is 7
Sire: Tommy's was Shotgun Gertie, Smarty's was HR Cat Olena, and Skipper's is Highbrow Mecom Blue
Dam: Tommy's was Shotgun Gertie, Smarty's was HR Ldee Lena, and Skipper's is Little O Classy Bars
NCHA Earnings: Tom Tucker Smoke won $4,393.92, and Smart Litl Blue Cat (Skipper) has won $3,149.65

Who bred and raised your horse: Tommy was bred and raised by James Bagwell before we had him, Smarty was bred and raised by Melvin D Hutchings before we got her, and Skipper was bred and raised by Theodore Coursen before we got him to train

Special story or quirk that is unique to your horse: Tommy was the first cutting horse I had ever ridden

Biggest win: On HR Smarty Cat when I got first in the NWB class with a 72

What does it mean to you to be the 2018 MCHA Class Champion / Special Award Recipient? It means a lot to me to be the Youth Rookie of the year, because of all the people that have helped me along

2019 Goals in the cutting pen?
Who or what inspires you? My family and everyone that helps em along to become the best cutter that I can be

Favorite Quote: The Lord is my rock, my fortress, and my deliverer; my God is my rock, in whom I take refuge, my shield and the horn of my salvation, my stronghold.
Psalm 18:2

Hobbies / Interests outside of the cutting pen?
I like to hunt, work with my two year old colt (Gunsmoke Gertie,or Gertie), rope, Ranch work, Football, 4-H, and construction.

Anything else you would like to add:
A special thanks to my dad and mom (Todd and Kate Banner) and to everyone else that has helped me along
Latest News
CONGRATULATIONS!
2018 MCHA ADULT
ROOKIE OF THE YEAR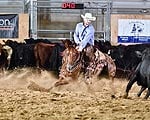 JB COX
Click to read more
2018 MCHA YOUTH
ROOKIE OF THE YEAR
GAGE BANNER
---
NWAB Sponsors
Tegeler & Associates Insurance - WY
Marcia & Ken Cantrell
Hayden Heaphy
Prairie States Insurance Agency
Suzanne Nellen
Dorothy & John Seymour
Miller Land & Livestock
Equis Horse Feeds - Crystal White
---
We want you to be an MCHA member!!!
2019 Membership Prices
Individual Membership - $35
Family Membership- $50 (Immediate family members to include Husband, Wife, and Children)
Youth Membership - $10
click here for membership application.
---
Event Photo Galleries
Be sure to check out our photo galleries!
Click here to view.
---
---